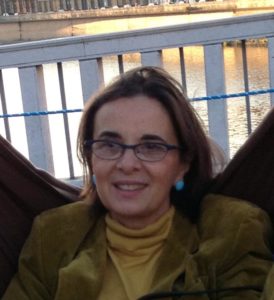 Position: Ricercatrice confermata
University: Pisa
Department: Civiltà e forme del sapere
Address: Via Pasquale Paoli 15, 56126 Pisa
Telephone: +39.050.2215454
E-mail: laura.galoppini@unipi.it
Publications:
https://arpi.unipi.it/browse?type=author&order=ASC&rpp=30&authority=rp13246#.VzmkJU1H7L8
Research fields: Her studies and her main research topics concern the trade and commercial presence in late medieval Tuscany, between the Mediterranean (Tuscany, Sardinia, Catalonia) and Northern Europe (Flanders).
Curriculum vitae:
Graduated in "Lettere" (Italian Language and Literature) at the University of Pisa in 1983 (110/110 cum laude) earned in the same place a degree in Medieval and Modern History (70/70 cum laude). Between 1986 and 1998, she carried out a series of studies in Spain (University of Seville and Barcelona) and Belgium (Ghent University) taking advantage of CNR and NATO grants, and of the Ministry of Foreign Affairs as well as of Consejo Superior de Investigaciones Cíentificas (CSIC) and finally of the Flemish Community of Belgium.
In September 2003 she received her PhD in Medieval history at the University of Ghent in Belgium (Faculteit Letteren en Wijsbegeerte – Universiteit Gent).
From 1989 to 1992 she was part of the permanent staff of the Department of History, University of Sassari, and was later transferred to the Department of Medieval Studies, University of Pisa.
Since 2000 she is researcher at the Department of History (University of Pisa) where she teaches Medieval History.
PhD dissertation: Mercanti toscani e Bruges nel tardo Medioevo, Universiteit Gent – Faculteit Letteren en Wijsbegeerte (2003)
Updated: 17/05/2016